Appliance Repair
Is your dishwasher leaking? Is your refrigerator cycling on and off constantly? Is your dryer not drying your clothes? If you answered yes to any of these questions, you need appliance repair service. At Cor-Jus Enterprises, Inc., we offer a wide range of appliance repairs to help you get your major household appliances working smoothly once more. When you need home appliance repair in the Manhasset area, we're the experts you can trust for top-notch workmanship and friendly customer service. We're dedicated to providing all of our clients with quality solutions, so we know you'll be happy with the work we complete. Interested in learning more about our appliance repair services? Give us a call right away! 
Experienced Appliance Repair Technicians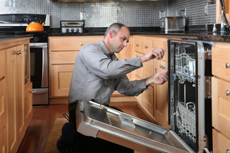 When it comes to fixing home appliances, experience matters. If you work with an amateur appliance repair technician or try to tackle repairs on your own, you run the risk of getting shoddy fixes that won't last. That's where Cor-Jus Enterprises, Inc. can help. We have more than 45 years of experience in the appliance repair business. Our team has a wealth of home appliance repair knowledge and skill, and we'll use everything we've learned throughout the years to provide you with the best repairs possible. Whether you're dealing with a large malfunction or a small one, we're ready to provide you with expert appliance service.
Our team offers local appliance repairs for:
Refrigerators
Dishwashers
Freezers
Dryers
Washing machines
Ovens, ranges, and stoves
And more!
No matter what kind of appliance problem you're struggling with, you can trust that Cor-Jus Enterprises, Inc. will be able to address it with ease and professionalism. We're dedicated to providing our customers with repairs that last. We'll get to the root of the problem with your appliance before offering solutions to ensure the whole issue is resolved the first time around. Our licensed, bonded, and insured technicians approach each appliance repair job with the goal of being thorough and providing you with an effective repair that gets your appliance back to complete working order. For flawless workmanship, you won't find a better option than the appliances repair pros at Cor-Jus Enterprises, Inc. 
Emergency Appliance Repair Service
When a home appliance breaks down, getting it repaired right away is often the best course of action for preventing further damage and saving money. Fortunately, Cor-Jus Enterprises, Inc. provides emergency appliance repairs. That means you can call on us with your last-minute needs for appliance service. If you have appliance problems you need addressed right away, call us now in Manhasset and beyond!
Appliance Repair Services
Appliance Repairs
Major Appliance Repair
Appliances Repair