Dishwasher Repair
Is your dishwasher not draining, leaking, or simply not getting your dishes clean? Don't let the stress of a malfunctioning dishwasher disrupt your daily routine. Instead, turn to the pros at Cor-Jus Enterprises, Inc. for dishwasher repair. We're proud to be your top source for reliable dishwasher repairs in Manhasset and nearby communities. The next time you're experiencing dishwasher problems of any variety, let our knowledgeable and skilled dishwasher service specialists come to your assistance. Whether your dishwasher is clogged or won't turn on at all, we have the expertise to find an effective solution. Call or e-mail us today to schedule your appointment for dishwasher repair service!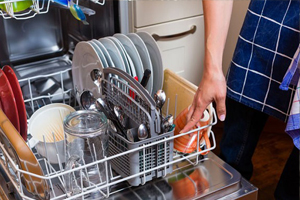 There are a variety of common dishwasher problems you may experience, and Cor-Jus Enterprises, Inc. is ready to help you solve them all. Contact us right away if your dishwasher displays any of the following issues:
Leaking
Not draining
Not filling
Clogs
Not starting
Unusual noises
Excessive cycle lengths
Or other malfunctions
When you call on our team for dishwasher service repair, you can rest assured that we'll take a thorough approach to solving your dishwasher problem. As a family-owned dishwasher repair company, we know the importance of having a fully functioning dishwasher at all times. That's why we'll work hard to troubleshoot the issue and get to the root of the problem before we implement the best repair solution. Our dishwasher service pros are dedicated to providing customers with some of the best service around, so we'll never cut corners on resolving any of your dishwasher issues.
Seasoned Dishwasher Repair Professionals
When you're dealing with a malfunctioning or broken dishwasher, getting help from a seasoned dishwasher repair professional is your best bet for returning your unit to peak performance. Turn to Cor-Jus Enterprises, Inc. for assistance with your dishwasher, and you'll benefit from our extensive experience handling dishwasher repairs, both large and small. In fact, our team has over 45 years of hands-on experience providing dishwasher repairs to homeowners in the Manhasset area, and we'll use everything we've learned to help get your dishwasher up and running smoothly once more. Whether you're having problems with your dishwasher not draining or you're dealing with dirty dishes after a full cycle, our experts can help. And, to ensure you're satisfied with our work, we back up all of our repairs with a one-year parts and labor guarantee.
If you're currently dealing with a broken dishwasher, call on Cor-Jus Enterprises, Inc. today. We can't wait to help you get your dishwasher back in top working order once more!
Dishwasher Rack Repair
Dishwasher Repair Service
Dishwasher Repairs