Freezer Repair
Having a freezer in your home is a great way to save money and reduce trips to the grocery store. Unfortunately, when your freezer starts acting up, there's a good chance you'll be dealing with food spoilage and you'll need to replace all those groceries. If you're currently having freezer problems of any kind, call on Cor-Jus Enterprises, Inc. With help from our freezer repair professionals, you can work to avoid those potential losses and get your freezer back at full capacity again. We have more than 45 years of experience in the home appliance and freezer repair business, and in that time, we've fixed a wide variety of freezer problems. That means that practically no matter what's wrong with your unit, our team can help. Call or e-mail us today for expert freezer repair service in the Manhasset area.
Dependable Freezer Repair Service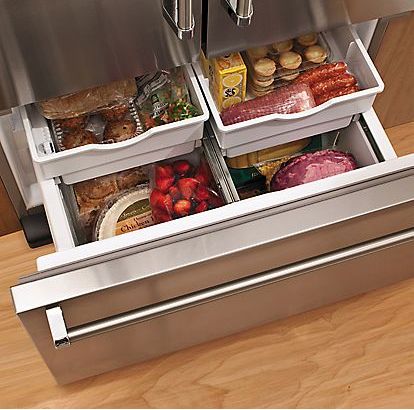 At Cor-Jus Enterprises, Inc., our goal is to go above and beyond your expectations in everything from customer service to the quality of our workmanship. As part of our commitment to customer satisfaction, we provide you with a one-year guarantee on all parts and labor. You can rest easy knowing that your freezer repairs will last. Whether your freezer is not freezing your food, it's making unusual noises, or it's displaying other performance issues, put your trust in our licensed, bonded, and insured technicians, and you can look forward to a fully functioning freezer once more. 
Emergency Freezer Repairs
At Cor-Jus Enterprises, Inc., we know it's important to secure freezer repair for malfunctioning units right away. That's why we're proud to offer emergency fridge/freezer repairs. If you're encountering home freezer problems of any kind, let Cor-Jus Enterprises, Inc. step in before food spoilage and costly grocery replacement become an issue. No matter when you need our help, we'll provide you with an effective solution to your freezer problem. There's practically no freezer issue, large or small, our team can't handle, so you can relax and let our technicians provide you with superior results and flawless craftsmanship. 
When you call the freezer repair pros at Cor-Jus Enterprises, Inc., you can be sure our local, family-owned business will provide you with the value, the expert solutions, and the results you're looking for. It's our goal to make dealing with freezer problems as stress free as possible, so don't hesitate to call us today! We are here in Manhasset to serve you.
Freezers Repair
Freezer Repair
Freezer Repairs